KICT Lends Helping Hand to Daegu and Gyeongbuk
NameKICT
Date2020/03/03 00:00:00
Hit1,468
KICT Lends Helping Hand to Daegu and Gyeongbuk
- KICT donates 25 air purifier units with anti-bacterial and anti-virus functionality to the Daegu and Gyeongbuk regions
- KICT fulfills its roles and responsibilities as a government-funded research institute by tackling social problems and actively responding in times of emergency
- KICT develops HVAC filter technology able to remove 99% or more of viruses and bacteria with commercialization imminent
The Korea Institute of Civil Engineering and Building Technology (KICT, President Seung Heon Han), a government-funded research institute, announced on March 3 (Tue) that KICT staff and executives had made donations to help the residents of the Daegu and Gyeongbuk regions suffering from the spread of COVID-19. These donations come in the form of 25 special air purifier units with anti-viral and anti-bacterial functionality (worth a total of approximately KRW 50 million). The special air purifier units will be donated to screening centers in the Daegu area where people are at high risk of virus exposure.
The air filters in the soon-to-be-donated air purifiers represent the research results of the Center of Convergence for Emerging Virus Infection (comprised of eight government-funded research institutes of the National Research Council of Science and Technology). These air filters can be installed in conventional air purifier units to completely remove sources of infections such as viruses and are advantageous in terms of their performance and replacement cycles. Conventional air filters physically filter outsources of infections, requiring that the filters be replaced at regular intervals, thereby posing the risk of the re-release of the sources of infection accumulated throughout the course of filter use.
Researchers from the KICT have been active at the Center of Convergence for Emerging Virus Infection since 2016, developing a "photocatalytic anti-bacterial and anti-viral air conditioning unit" that prevents the airborne spread of infectious diseases. The apparatus draws on the powerful oxidizing potential of free oxygen radicals generated when photocatalysts react with light.
Testing at specialized research institutes in Korea and overseas has shown that the unit is able to remove or neutralize (render inert) 99% or more of disease-causing agents, including E. coli, Salmonella, bacteriophages, rotavirus, norovirus, influenza virus, and human coronavirus.
The MERS, SARS and COVID-19 viruses, all of which are coronaviruses, have similar biological structures and primarily differ in terms of pathogenicity. Given the similar structure of these viruses, the recently-developed air filters are also expected to be effective against the more recent virus mutation, COVID-19.
The KICT seeks to commercialize a variety of air handling products, from air purifiers to building HVAC systems, based on this air filtering technology. Mass production capacity for these products will be secured through technology transfers to private sector manufacturers in April of this year.
In 2016, the KICT and the Gyeongsangbuk-do Provincial Government signed a cooperative agreement to work together to resolve pending regional issues. The KICT has signed similar agreements with other local governments as well, and is engaged in numerous joint research and cooperation projects to address regional problems. The KICT expects its donation of the special air purifiers to be of substantial help to residents of Daegu and Gyeongbuk where the COVID-19 infection is spreading.
KICT President Seung Heon Han commented, "The KICT will continue to faithfully carry out its role and responsibilities as a government-funded research institute by conducting research and developing technologies to protect the lives and safety of the people from disasters, and to solve the problems of the state and society."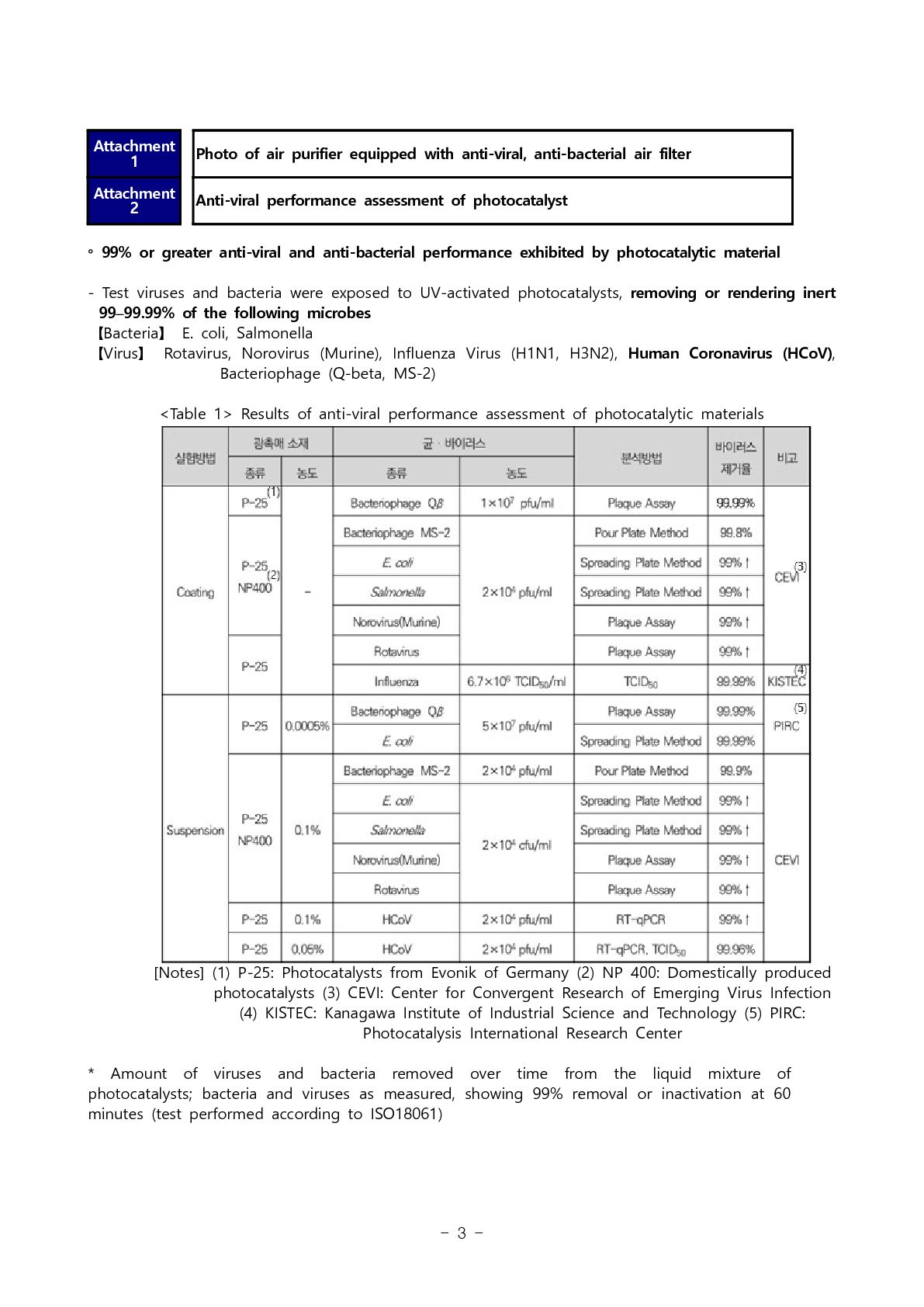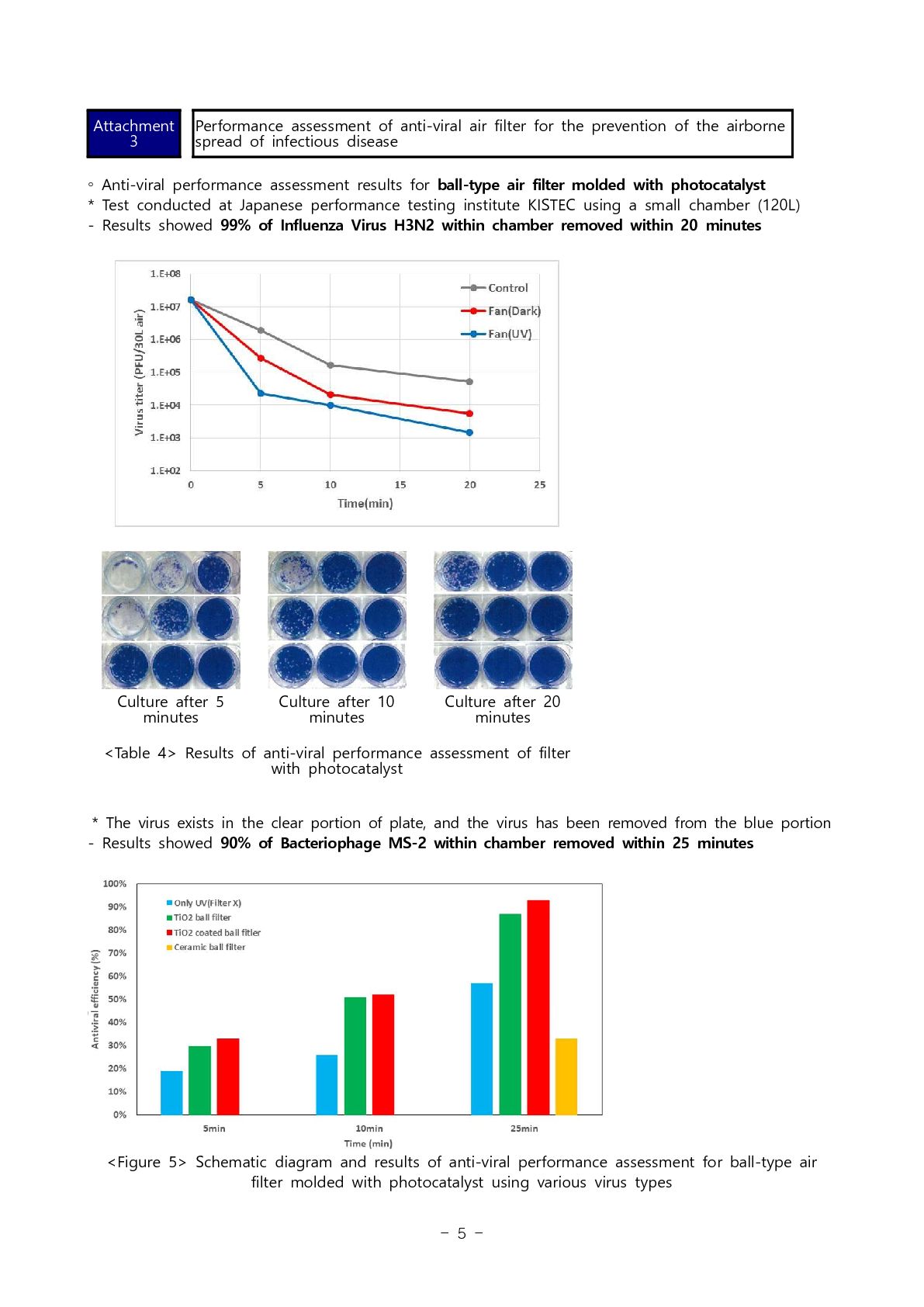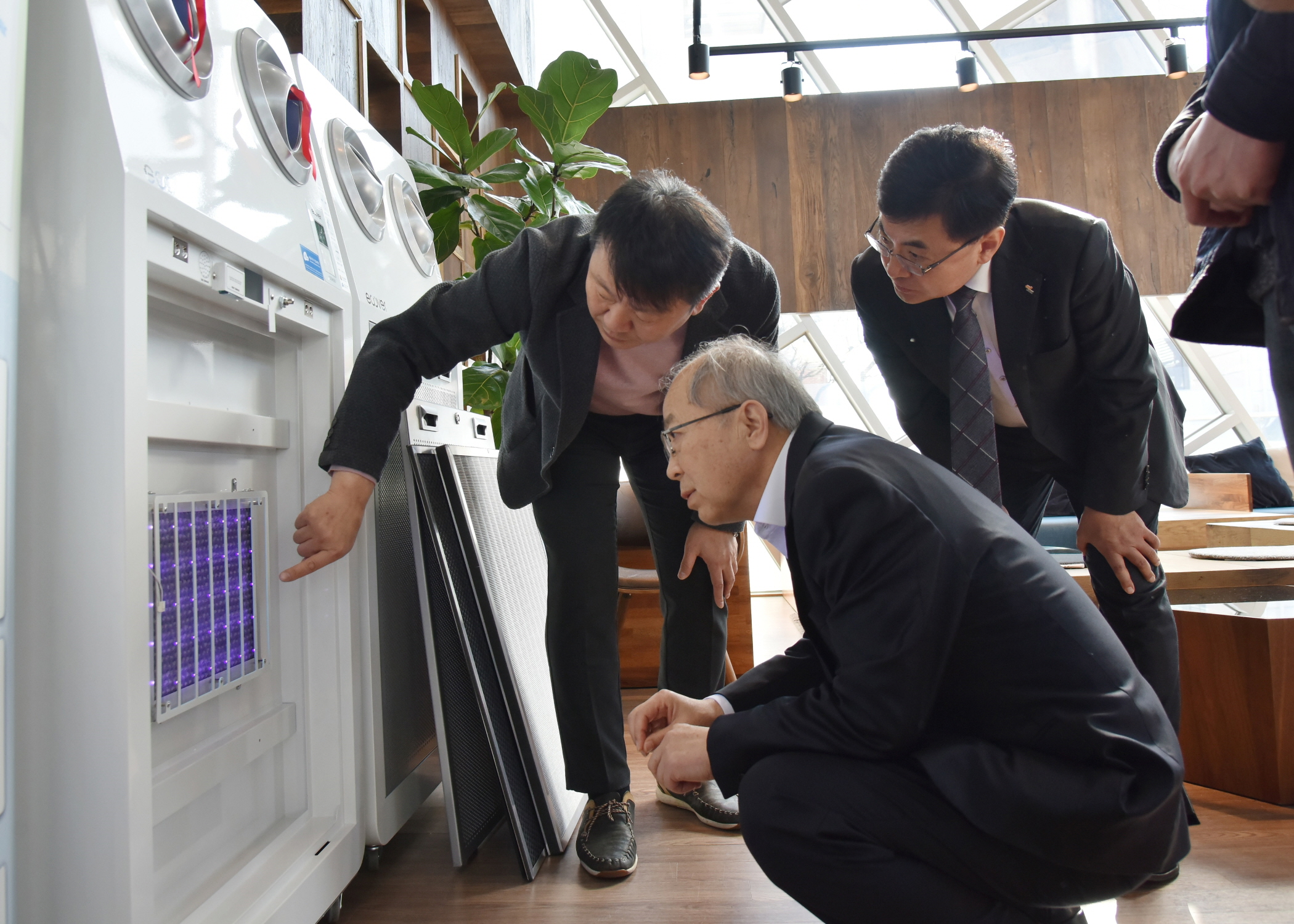 * The Air purifier units with anti-bacterial and anti-virus functionality
* Wohn, Kwangyun : Chairperson of NST (Squatted Position)
* Seung Heun Han : President of KICT (Right Side)
* Kwak, Jong-Won : Executive Director, Planning and Coordination Department of KICT (Left Side)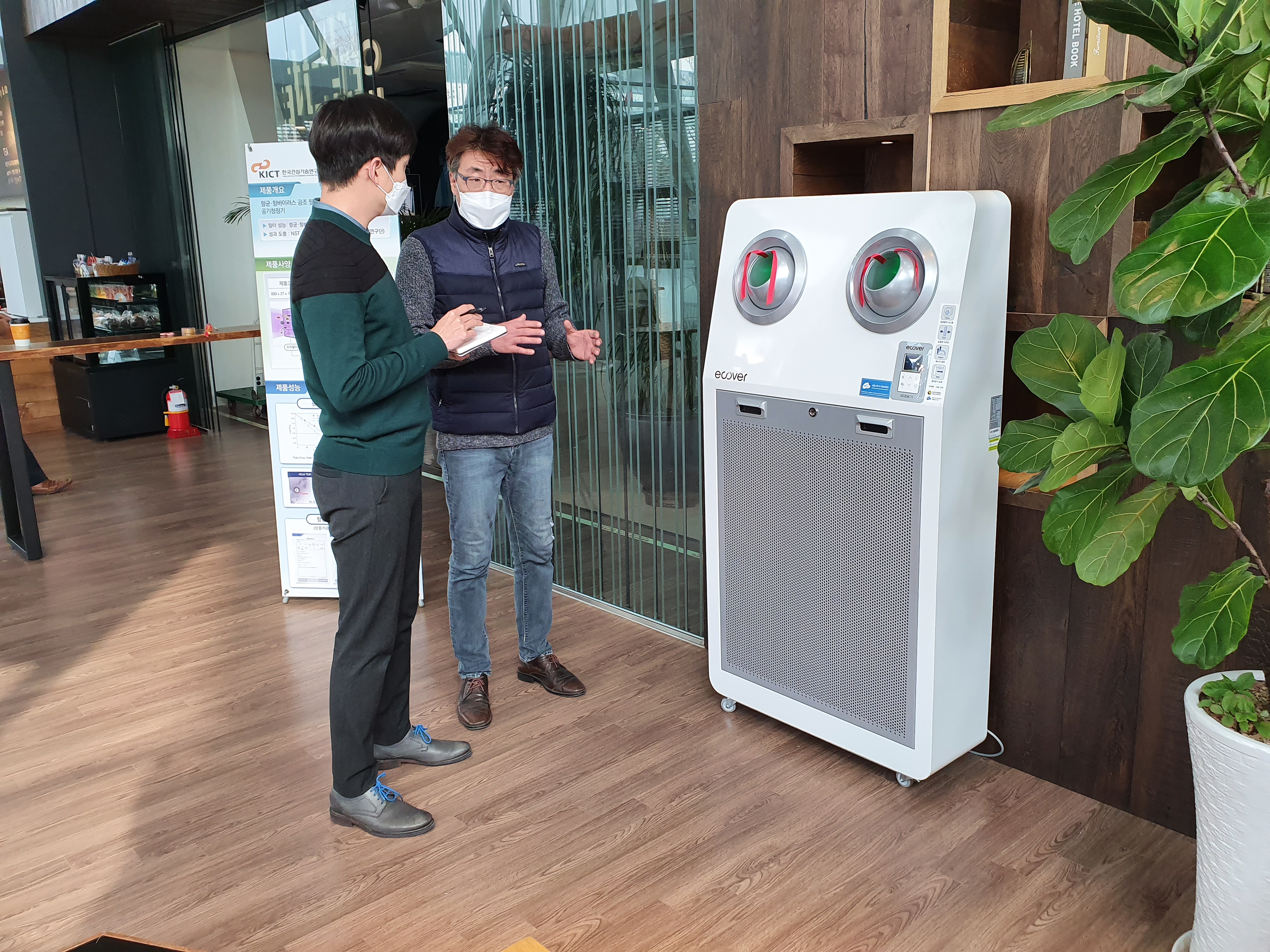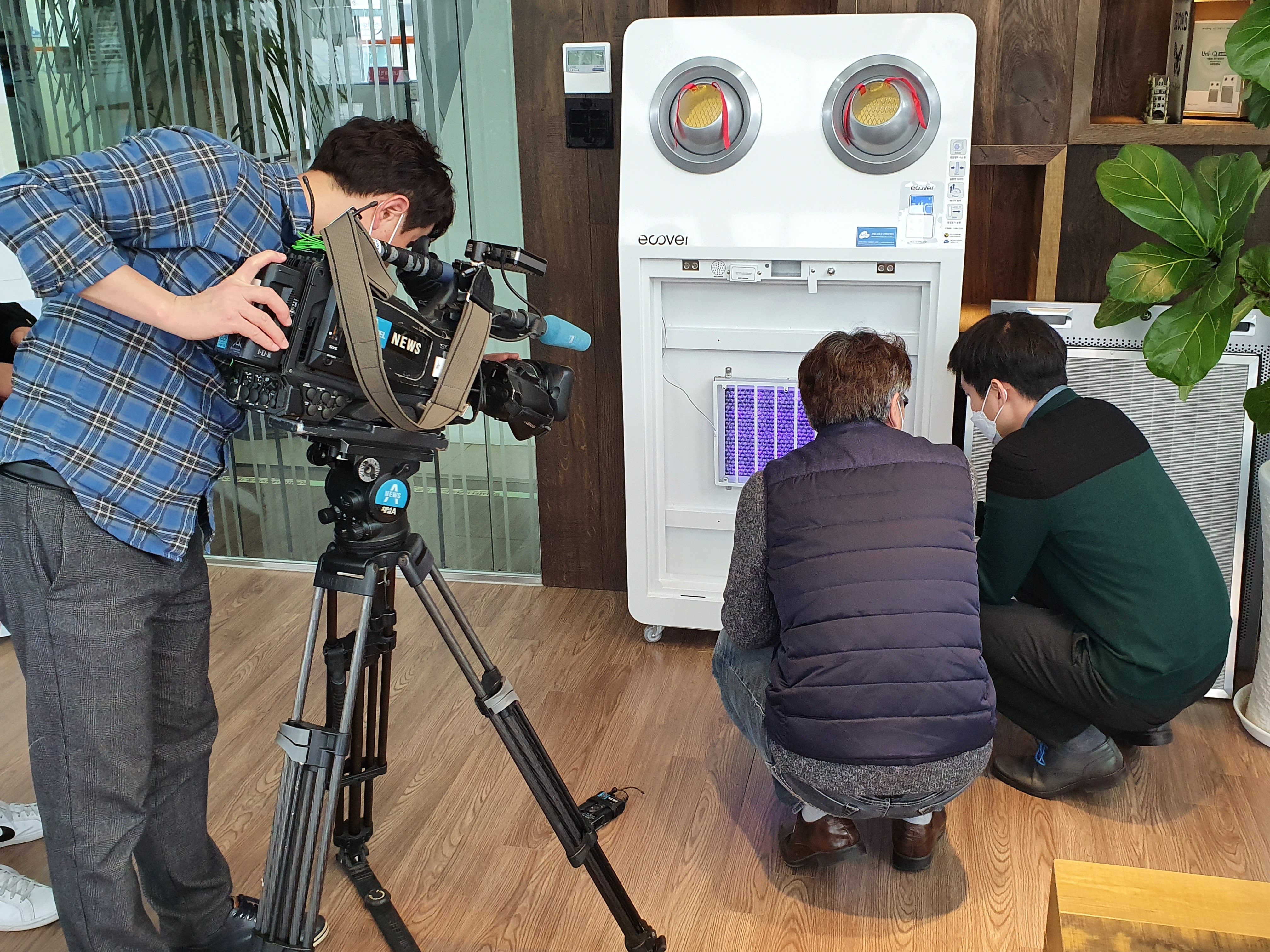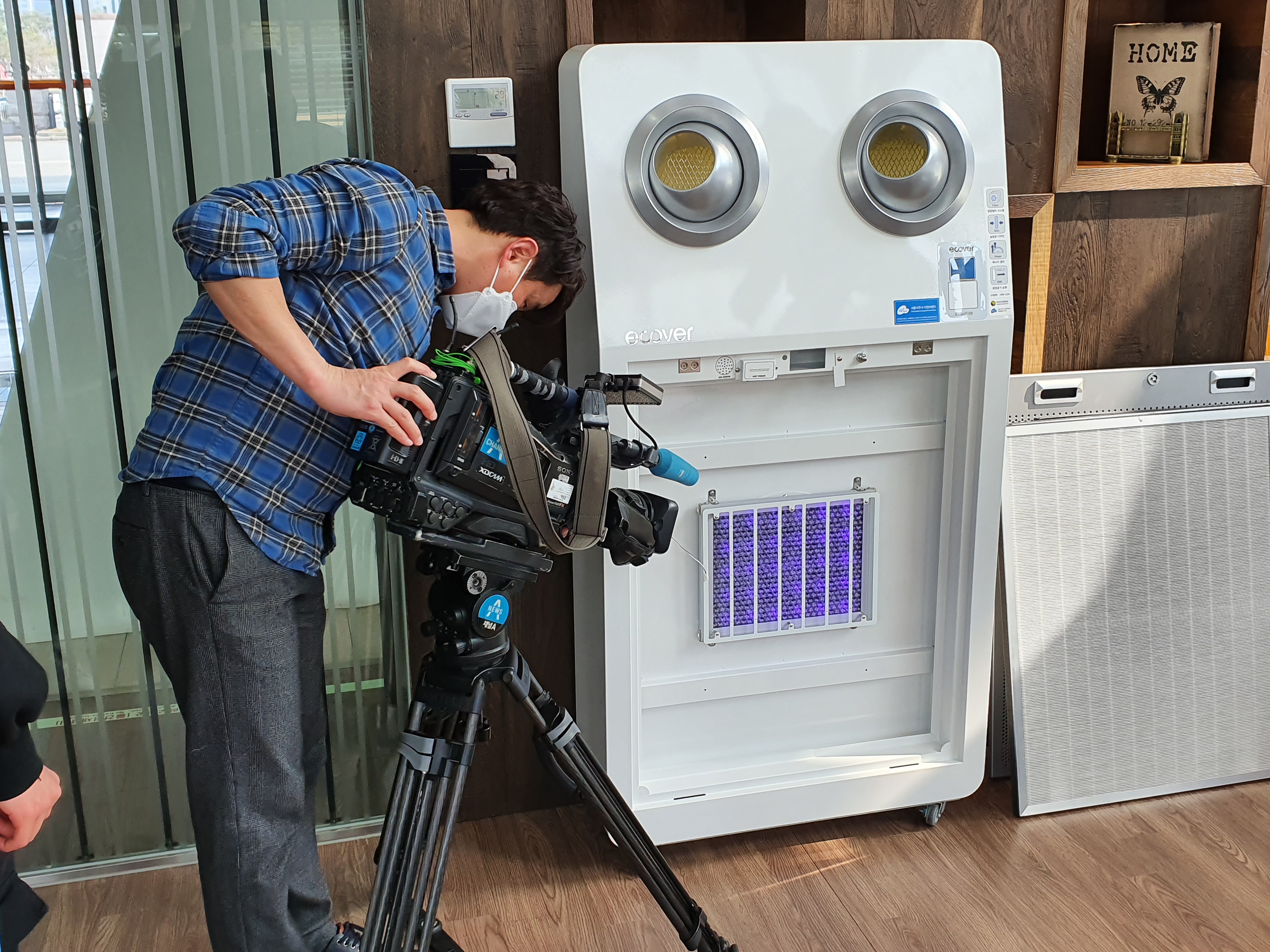 * Dr. Koo, Hyun-Bon : Senior Researcher, Department of Infrastructure Safety Research (KICT)
With Crew of "Channel A" News Team