KICT Signs BIM Technology MOU with Tanal Global Holdings Group of Saudi Arabia
NameKICT
Date2020/02/12 00:00:00
Hit1,739
On February 12 (Wed), the Korea Institute of Civil Engineering and Building Technology (KICT) and the Tanal Global Holdings Group signed an MOU for the application of the KICT's BIM to DR (Building Information Modeling to Digital Reality) technology in new urban developments in the Saudi Arabian capital of Riyadh.
Tanal Global Holdings, owned by Prince Abdulaziz ibn Saud Al Saud(عبد العزيز بن سعود بن نايف بن عبد العزيز آل سعود) of Saudi Arabia, executes small-scale urban development projects in Saudi Arabia.
The KICT's BIM to DR technology was recognized by Saudi Arabia for its growth potential as an integrated construction platform, and the KICT and Tanal are currently engaged in discussions to apply the KICT's BIM to DR technology as a standard throughout Saudi Arabia.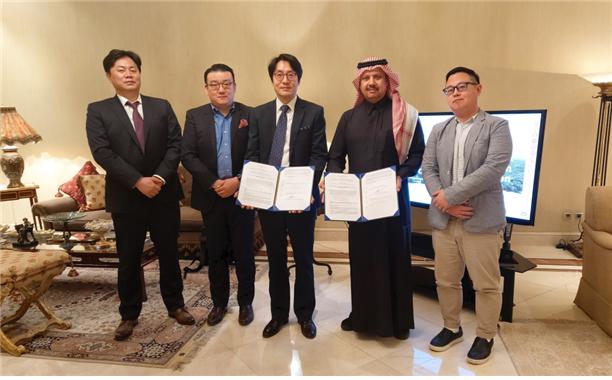 * Prince Abdulaziz ibn Saud Al Saud of Saudi Arabia (2nd from Right Position)
* Seo, Myeong-Bae, Senior Researcher, Construction Automation Research Center of KICT (3rd from Left Position)