The KICT has formed research clusters that reflect its multidisciplinary structure. Each research cluster carries out important, integrative research activities, often involving multiple departments. These clusters are each a matrix of expert activity strategically coordinated to respond to changes affecting the world today and advance R&D with real merit and global applicability through government projects and KICT-branded projects aimed at social issue management and future response. The KICT is creating an open research platform that will enable experts from around the world to join its research clusters via virtual reality technology.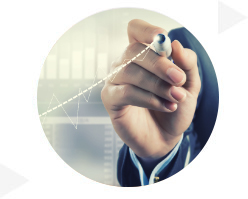 Hydrogen-Infrastructure Research Cluster
Hydrogen-Infrastructure Research Cluster
Research
At the core of the Hydrogen Infrastructure Cluster's R&D in the area of infrastructure technology that enables the production and supply of hydrogen energy from a diverse range of recycled resources is a vision of a carbon-free world.

- Head of cluster: Hwang In-ju, Department of Environmental Research
Purpose
Creation of self-sufficient hydrogen city infrastructure
Recycling of urban waste as an environmental solution
Contribution to the KICT and Government Policies
Hydrogen energy infrastructure is a critical aspect of the KICT's roles and responsibilities (R&R), as made evident in KICT 2030
Contribution to the KICT and Government Policies
Structure of
the KICT's R&R
Generic
Specific
Key tasks and technology

Role 1: Management of public issues with advanced road and transportation technology
Role 2: Innovation and growth of the construction industry

⇒ Land and transportation technology for particulate matter control, carbon neutrality, and safety in a sustainable living environment
⇒ Innovative technology for growth of the construction industry, e.g. hydrogen infrastructure

Key task: Creation of technology for high risk management; creation of new markets
Key technology: Hydrogen city infrastructure and hydrogen grids (detailed technology in development)
Contribution to Government Policies
The Act on Hydrogen Economy Development and Hydrogen Safety Management (announced Feb. 2020)
The Act on Construction and Operation of Hydrogen Cities (announced Sep. 2020, Ministry of Land, Infrastructure and Transport)
Comprehensive Plan for the Korean New Deal: Green infrastructure, energy, and industry for a net-zero Korea
* Major task for green energy: Creation of a hydrogen city that is self-sufficient in terms of hydrogen life cycle (three between 2020 and 2022, and additional three by 2025)
* Major task for green future mobility: Infrastructure for producing hydrogen near serviced areas (filling stations) for an immediate supply
Strategies for promoting Carbon Neutrality 2050: Adaptive reduction of greenhouse gas emissions and proactive economic development for the creation of a new environment in which sustainable improvement of the economy and quality of life can be achieved during the switch to carbon neutrality
Transitioning to Future mobility: To be equipped with three major infrastructure including electric vehicle charging stations near the home for 20 million households nationwide, hydrogen filling stations at key geographic locations*, and green hydrogen infrastructure
* To be installed in public areas and gas stations (approx. 2,000 LPG pumps)
Low-carbon cities and roads: Establishment of sufficient renewable energy infrastructure within cities for energy autonomy; creation of green cities of hydrogen self-sufficiency (production → supply → use)
Reforming high-carbon industrial practices: Value chain-wide innovation for carbon neutrality at each and every step (cycle of materials → process → product→ resource consumption)
Consumption and recycling: Recycling of waste and energy, energy retrieval, etc.
Revitalization of the white biotechnology industry: An "innovative growth strategy meeting" led by the Ministry of Trade, Industry and Energy and attended by government departments produced 'white' biotechnology promotion strategies which include the development and supply of bioplastics, creation of high added value in value chains with 'white' biotech products, and creation of 'white' biotechnology industries.
Direction of 2022 government R&D funding: Strengthening decarbonization, global innovative technologies, and empirical studies to attain the development and testing of technologies that are in line with Carbon Neutrality 2050.
Revitalization of the hydrogen economy: The government will be continuously funding R&D in hydrogen city infrastructure and fuel cell technology to create an efficient hydrogen ecosystem.
Revitalization of the circular economy: The government will be intensifying waste reduction measures as part of a sustainable recycling regimen, and decoupling resource consumption for economic growth by developing and commercializing advanced recycling technology.
Major Areas of Research
Incorporation of hydrogen distribution systems and protocols in metropolitan road infrastructure
Mapping of hydrogen distribution centers and routes onto road networks
Mapping of predicted hydrogen demands around Korea; evaluation of hydrogen distribution routes and present risks
Real-time distribution monitoring and optimization based on road data
Structurally and functionally engineered hydrogen city infrastructure below the ground
Underground decentralized hydrogen stations in the vicinity of demand points
Compact core technologies for said underground hydrogen stations
Integrated hydrogen energy hubs and stations
Hydrogen city infrastructure safety
Risk assessment and reduction in underground installations
Standardized separation distances for underground installation safety
Monitoring and management of leaks, safety systems, and resilience
Infrastructure integration, multi-process urban waste recycling, built-in blue hydrogen platform
Integration of existing and new technologies (utilizing organic waste management, biological anaerobic digestion process, etc.)
Gasification and refinement of biodegradable plastic for hydrogen production
Integration of a compact blue hydrogen production/supply platform in hydrogen city infrastructure
Future city energy modelling (including mobility and utility, and industrial complex) to realize carbon neutrality
Energy modeling based on types and functions of net-zero buildings and cities
Urban energy modeling that comprehensively considers the integration of mobility, utility and industry
Establishment and management of related database, development of integrated energy solutions
Integrated system of hydrogen energy technology and dispersion type system technology within urban spaces
Hydrogen city infrastructure technology within the city for the production, storage, supply, and use of hydrogen (decentralized production/use points, fuel cell generators, home fuel cells, etc.)
Decentralization of energy facilities for safety, accessibility, space efficiency; supply-use channel (freight, pipeworks) optimization
Integration of hydrogen infrastructure with existing LNG/city gas networks; development of hydrogen circulatory system that integrates urban utilities (waste resources, etc.) and fuel cells
Virtual power plants and smart integration
Virtual networking of decentralized facilities (fuel cells, renewable energy, hydrogen storage, etc.) and existing power grids
Data-network-AI integration for virtual twinning of environments and systems, and management and commercialization of energy vs. range and supply vs. demand
Net-zero technology and sustainable water-energy nexus technology in infrastructure
Microbial electrolysis and synthesis in water processing, hydrogen production, and carbon dioxide collection at sewerage facilities/li>
Microbial electrolysis and fuel cells/li>
Optimized energy supply to sewerage facilities with low head hydropower and solar power/li>
Renewable energy generation; pump-extraction of heat from sewage, sunlight, and air for generation/li>
Use of existing systems in blue hydrogen production from digestion gas (incinerated sludge), cogeneration with fuel cells, and digital twin/AI operation systems
Energy grid safety
Gas pipes, thermal conduits, oil pipes; use of robotics in the internal inspection of pipes; inspection of buried pipelines; inspection and maintenance of thermal conduits; management of corrosion in buried pipelines; pipeline maintenance techniques and equipment
Major Areas of Expertise
Hydrogen energy system: Building of hydrogen energy infrastructure, computer simulation
Retrieval of wastewater and recycling: Upcycling of water, retrieval of wastewater and waste
Roads and transportation: Optimal location/sizing of facilities, hydrogen supply route planning
Explosion safety: Anti-explosive materials for hydrogen storage facilities, design/installation of structures
Fire safety: Risk assessment and safety enhancement of hydrogen infrastructure